LATIN AMERICA's abundant natural resource endowment will allow the region to continue playing a major role in world agricultural production and trade.
The heterogeneity of agriculture in LATIN AMERICA is reflected in the diversity of the region's farm structures. While agriculture in the Southern Cone is dominated by large, commercial and export-oriented farms, particularly in Peru , Argentina and Brazil but increasingly in other countries as well such as Uruguay, Bolivia etc. Much of the rest of the region is characterised by smallholder and family agriculture. It is estimated that there are 25 million smallholder and family farmers in the LATIN AMERICA region, who are responsible for a substantial share of the region's food production.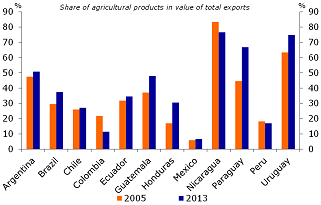 Peru's climate and different geographical zones make it an important agricultural nation. Of the 120 domesticated plants Peru has provided the world, the potato is the most important. There are more than 3,000 varieties of potatoes found in Peru, making it the world's genetic center for the crop. Other important crops include sugarcane, coffee, and cotton, with Peru producing 2 of the world's finest strains of cotton: Pima and Tanguis. In addition to these staples, the UNDP estimates that the Andean and jungle food baskets include important vegetables and fruits that are relatively unknown but high in vitamins and proteins. These include camu-camu, a small jungle fruit with the highest known levels of vitamin C, and quinoa, a highland grain. In addition, Peru is also a major supplier of crops such as asparagus, because of its unique climate. Peru has a window for asparagus (US$120 million in export earnings in 1999) exports between November and January, months in which almost no other country exports the product. Other "designer" products include mangos, sweet onions, and herbs.
Other important elements in the agricultural sector are domesticated Andean animals including llamas, alpacas, guanacos, and vicuñas. All 4 belong to the same family and provide varying levels of fine wool. The vicuña, which is not domesticated, has the world's finest wool. Vicuñas have been on the endangered species list for decades, but are rebounding, numbering close to 150,000 today. Vicuñas are protected under the CITES convention, which means their wool cannot be commercialized. The Peruvian government is lobbying to have the prohibition changed.
A potentially important source of income could come from Peru's virgin forest in the form of logging. The Peruvian government began overhauling its laws governing the timber industry in 2000, dividing up parcels and placing conditions on logging and exports of slow-growth hardwood trees such as cedar and mahogany. Together with Guyana, in northern South America, Peru is one of the few countries on the planet that has most of its forest reserves relatively untouched.
Agriculture represents 13 percent of GDP but employs 30 percent of the country's population. The incoming government proposes upping the sector's percentage of GDP as well as its employment participation by focusing on value-added products and concentrating on vertical integration . Cotton production is one agricultural product that the government is attempting to increase through vertical integration. Cotton production is linked to the country's textile manufacturing. The country's textile industry exported more than US$700 million in 2000 and includes several vertically-integrated companies, such as Textiles San Cristobal, which produces for U.S. manufacturer Ralph Lauren and other high-end clothing companies. They run cotton plantations, thread and fabric factories, garment producers, and exporters of the final product.
The goal of government is to get Peruvian textiles included in the list of products exported to the United States tariff-free under the Andean Trade Preference Act, passed in 1990. The Peruvian government is pushing for them to be included in an extension of the act, which is currently being negotiated. The Peruvian government believes that if textiles receive tariff-free status, there will be a boom throughout the textile industry, beginning in the cotton fields.
The government plans on doubling the number of acres dedicated to cotton in order to increase cloth production to feed the textile industry. Other targeted products include hard yellow corn for the poultry industry, coffee for the specialty coffee market in the United States and Europe, and sugarcane. Peru currently imports corn and sugarcane, despite its long history of development of both crops. According to the Department of Agriculture, Peru has been a net agricultural importer since 1980, with agriculture imports worth roughly US$200 million more than exports in 1999.
Hundreds of laws were passed under the previous administration to stimulate the agriculture sector. These included privatization of fallow lands and irrigation systems, as well as removing conditions on land ownership and tenure. However, the government failed to pass 2 important pieces of legislation governing community-owned lands and water rights. Without these 2 laws, large agroindustry projects will not be able to operate.
One of Peru's best-known crops is coca, which is the raw material used to make cocaine. In addition to coca, Peru also produces substantial quantities of POTATO, GINGER, CHIA, QUINOA, MANDARIN, AVOCADO,BERRIES, BRAZIL NUT, MUNG BEANS, SACHA INCHI NUT AND OIL, Marijuana, and, in recent years, poppies used in opium production.